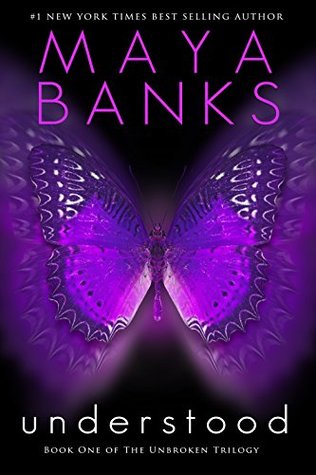 Understood
by
Maya Banks
Jake Turner committed the ultimate mistake of falling in love with his best friend's wife. The distance he puts between them costs both him and Ellie Matthews dearly.
Jake will never forgive himself for not seeing what a bastard his friend was. Now that Ellie is free from her nightmare, Jake waits, needing and wanting.
He'll be there when Ellie is ready to spread her wings.
Ellie Matthews is still haunted with what happened to her in the past, and she won't ever be able to get over it. Not just yet at least.
Jake has always been in love with Ellie, ever since she married his best friend and NFL Football player, Ray. When Ellie married "The golden boy" of the area, everyone loved it, everyone apart from Jake. It tore him deeply, cut him in two that she married Ray, so he kept himself at a distance to keep him away from the pain.
But whilst he did that, Jake didn't know the shocking truths behind Ellie and Ray's marriage, until one night when she knocked on his door. In tears, ripped clothes,
blood
splattered legs and
bruises all over her face, Jake soon realised that the grass was definitely not greener on the other side, especially not for Ellie.
It's been two years since Ellie and Ray's divorce, though Ellie is still not up to scratch, mentally and physically. So when she walks into the local bar, shirt mini skirt on, boobs nearly on show and red high-heeled boots, Jake knows that there is something wrong.
Soon Jake and Ellie are in it together, Jake trying to do anything to make her happy, and Ellie just trying to get away from it all. A relationship starts to bloom filled with love and sexual tension and everything is looking up for Ellie.
But when Ray comes knocking on Ellie's door furiously and refusing to leave, Ellie soon goes back into her shell, refusing to come out and all of Jake's work has gone back to square one.
Will Ellie go back to her normal ways, or will she be a scared woman forever?
And will Jake ever get to love the woman of his dreams, or will it all shatter around his feet?
Understood
by
Maya Banks,
is the first instalment in the Unbroken book series, the series to my knowledge doesn't follow the story of Jake and Ellie, but it does follow other characters in the book and their relationships.
I am quite happy with this book and feel I am a bit closer to finding some books that are like the Knight series haha. The book has a story line, more of a story line that a sexual story line, which is good. Although I do like the other parts.
In some ways I did like the story line, but in other ways I didn't, simply because it had abuse in and no one wants to read about that. I loved Jake's character, he was so lovely and determined to look after Ellie and it didn't bother him at all if she had done anything, he just wanted to love and care for her, to not let anything bad happen to her and it was lovely.
Ellie's character was very well written I think, the way she was described and her attitude towards everything was very well written. I loved how she was with Jake and her relationships as well as her emotions.
All in all I liked this book, I thought it was okay and will happily read the next instalment in the series.
I will give this book 6.5 out of 10