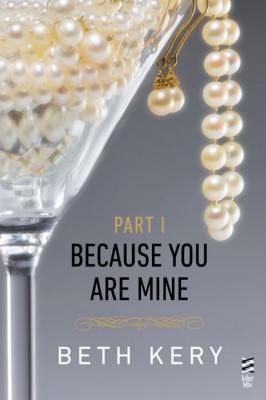 Because You Are Mine: Part One
by
Beth Kerry
Francesca Arno has been commissioned to create a grand centerpiece painting for the lobby of Ian Noble's new skyscraper. It's at a cocktail party in her honor that she first meets him—and the attraction is immediate for Francesca. It's also bewildering.
When Francesca Arno is invited to a dinner party to celebrate her paintings, she is a little bit nervous. Though it soon starts to change as she is introduced to the man who wants her to paint more pictures for him.
Ian Noble is a highly successful billionaire. He has the brains, the money, women and a fine eye for art. So when his eyes fall onto the work of Miss. Arno, he can't wait to meet her face to face. Though though when he does, he don't think he will be able to hold himself back for much longer.
When Ian invites Francesca back to his apartment, he is merely showing her around his house just so she can get a taste of where she will be doing her paintings. But something strikes her as unsettling, since when Ian shows Miss. Arno a painting he has of hers, she soon realizes that the man she painted years ago in the late night of the park, was in fact Mr. Noble himself.
Soon their relationship starts to blossom as both Francesca and Ian can't stop thinking about each other. Will they start a new blossoming romance? Or will secrets start to come to the surface?
Because You Are Mine: Part One
by
Beth Kerry,
Is the first installment in the 'Because You Are Mine'
series, it is another one of those series that is panned out over eight small erotic books, instead of a couple of larger books.
To be honest with you, I couldn't fall in love with this book. I am still on the quest to find something as amazing as the Knight Series but I am failing miserably. I thought these new books could be the one, but I felt I nearly had to place matchsticks under my eyes to keep them up, I was that bored. This books honestly reminded me of Fifty Shades Of Grey, to me, it was boring. The same as all the others and lacked imagination.
The same old billionaire, same old naive woman who can't fight her own battles and believes she needs a man in her life, the bloke brooding and being miserable, they end up having a "steamy" relationship and that's that. A book series that I can't see they hype about.
No I can honestly say I didn't really like this book and don't think I will be reading anymore of this series. I may try some more of Beth Kerry's books but certainly not this series.
I will give this book a 2 out of 10